Top Hotels Lucca Italy
Find Best Hotels in Lucca, Compare Prices and
Read Hotels Reviews
Top hotels in Lucca, Italy are listed below. Whether you prefer a luxury hotel in Lucca right in the center of the city or a small charming antique villa hotel in Lucca countryside with delicious Tuscan cuisine - these hotels in Lucca, Italy can satisfy any visitors' taste.
I recommend before proceeding with Lucca hotel reservation to compare prices and read other travelers reviews on the best hotels you find below.
Enjoy your stay in Tuscany!
Best Hotels in Lucca Italy
Hotel Ilaria ****
Hotel Ilaria Lucca is a small luxury 4 star hotel located in the historical center of the city. Ilaria offers a wide range of services including airport transfer, baby sitting service, money exchange, tours/tickets assistance, parking, medical assistance in case of necessity and much more.
Hotel Alla Corte degli Angeli Lucca is a very charming four star hotel in Lucca built within old Lucca murals. It's an excellent choice if you are looking for something special in Lucca. Among hotel's services I can name bicycle rental, free pets stay, free Wi-Fi internet, tickets service and assistance and more.
Bed & Breakfast Il Ponte Lucca is your best choice when you are looking for cheap hotels in Lucca, Italy. Il Ponte is a small bed & breakfast on the edge of Lucca which offers a free bicycle rentals, airport transfer at additional cost, excursions in the area and provides free public parking. It's also located near bus stops for traveling to Pisa or Florence.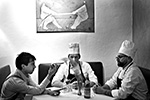 Locanda Vigna Ilaria
Hotel Locanda Vigna Ilaria Lucca is located in Lucca countryside, 4 km away from Lucca town, inside of the residence of 19th century. The hotel's restaurant is fantastic and is famous for its delicious Tuscan cuisine and wine selection. Among hotel's other services are room service, souvenir shop, excursions, airport transfer at additional price, free pets stay.
Hotel Villa Marta Lucca is located in beautiful and relaxed Lucca countryside, 10 minutes drive from Lucca city. Hotel Villa Marta offers a splendid outside pool and fantastic Tuscan gardens. The hotel can supply you with airport shuttle, massages, cooking classes, wine degustation and much more.
Palazzo Alexander Hotel is a luxury 4 star hotel located in the center of Lucca town. It offers airport transfer, money exchange, tours/tickets assistance, room service, free wireless internet, parking and more.
Hotel Eurostars Toscana Lucca is a luxury four star hotel in Lucca which will provide you maximum comfort with the following services: bicycle rental, room service, laundry service, bar, shops, restaurant, Wi-Fi internet, facilities for disables guests, and more.
Albergo Hotel Celide ****
Hotel Celide Lucca is a very good 4 star hotel in Lucca which offers free parking, free Wi-Fi connection, free bicycle rental, air-conditioning, satellite TV, airport shuttle at additional cost. The hotel's great restaurant is specialized in seafood and typical Tuscan cuisine.
More great hotels Lucca
Click here to add this page to your favorites
and come back for your next Lucca hotel reservation.
Enjoy our website? Give us your "Like"!

Loading